Soft-tissue Damage
Posted Thursday, October 30, 2014 by Chris Thayer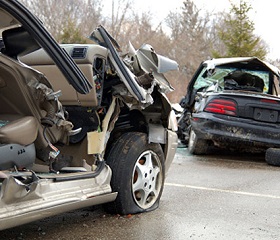 For many victims of a car accident, the internal soft tissue damage to the neck and back can be excruciatingly painful but very difficult to diagnose. In the context of personal injury litigation, it is often difficult for plaintiffs to advance their claims of soft-tissue damage without a solid diagnosis of a medical condition. However, an experienced and knowledgeable Seattle car accident attorney can successfully litigate claims of soft-tissue injury, as well as obtain adequate and fair compensation on behalf of the victim. If you are suffering from back or neck injuries, including whiplash, as a result of your recent auto accident, contact a Seattle auto accident attorney right away.
Understanding Soft-tissue Injury
Soft-tissue damage is so called because it impacts the soft connective tissue in the body including ligaments, tendons or delicate muscle tissue. When a driver is involved in a sudden and abrupt collision, these tissues become strained and can tear or become inflamed causing significant pain and soreness. Severe soft tissue injuries may require rehabilitation, surgery, chiropractic care or treatment with pain medication. Nonetheless, soft-tissue damage is often the most disputed type of injury by personal injury defendants and insurance companies.
Seattle Car Accident Attorney Discusses Common Soft-tissue Injury Disputes
There are a number of reasons why soft-tissue damage is one of the most disputed medical conditions within the context of personal injury litigation. For one, soft-tissue damage can occur in both high- and low-speed collisions. When the injury occurs following a low-speed accident, defendants often assume the plaintiff is exaggerating his or her claim. Secondly, soft-tissue injuries often take several days to occur, which explains why many plaintiffs do not report the pain at the scene of the accident or even see a doctor for a period of time after the incident. Lastly, soft-tissue damage may be difficult to detect using a traditional X-ray or imaging device. Nonetheless, an experienced physician should be able to diagnose this type of injury, which will weigh heavily in favor of the plaintiff.
Contact a Car Accident Lawyer Seattle Today
For a car accident lawyer Seattle can trust, please call attorney Chris Thayer at (206) 340-2008. Our law office is dedicated to helping injured auto accident victims, no matter the severity of the injury. For an appointment, please call today.